JOAD,
Junior Olympic Archery Developement for ages 8-20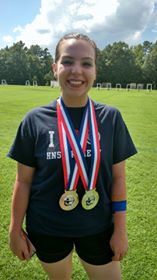 Located at 11250 Patterson Ave, Richmond, (Henrico) Virginia, 23238.
2.5miles East of Rt. 288.
JOAD, Junior Olympic Archery Development Club meets on Saturdays and occasionally during the week if we are training for an upcoming tournament.
For children ages 8-18 who have their own bow and want to get seriously good at shooting. Our team excels at tournaments both local and national.
If you or your child would like to join our club, give us a call to set up a time for an evaluation and tryout.
Membership to this club is by Invitation only by our Coaches.
This group of Archers are Intermediate to Advanced shooters and only certain types of archery equipment are preferred by USA Archery.
If you are not quite ready for this program, perhaps one of our beginner programs will be a good choice for you or a private one on one lesson.
Or you can fill out our contact form below if you cannot find your answers here.
---
Frequently Asked Questions
Q: Does my child need to have their own bow?
A: Yes, club members must have their own approved equipment for this program. This club is for more advanced shooters and there are 4 different classes or divisions to choose from.
Barebow = Recurve bow with no sights, shot with fingers.
Compound= Hunting or Target bows with all the bells and whistles.
Recurve = Olympic Style recurve bows with all accessories.
Basic Compound = The bare Genesis bow is in this category and although allowed in clubs, there is no competitive divisions at most tournaments for this bow. If a child wants to compete with a Genesis bow they will need to register under the Compound division.
Q: What are the ages for children to join the JOAD Club?
A: The minimum age is 8 years old. JOAD maximum age for the youth programs is 20 years old. After that the adult may join our Adult JOAD Program for all ages.

Q: My child has never had any professional training except at camp, can they still join this club?
A: Yes maybe, There are many archery programs and types of instructors who conduct these types of programs. All of our coaches are trained to USA Archery standards and with the latest techniques, the NTS System (National Training System)
We provide coaching to our club members to help them reach the highest competitive levels. For beginner archers we recommend they first complete our Explore Archery program or private lessons.

Q: What are the fees and costs associated with JOAD ?
A: Our club has monthly dues that include club meeting times, the targets the archers will use, coaching, achievement awards. Dues are $50 per month. USA Archery also requires a membership to USA Archery to be part of a club and to compete in tournaments.
​
There are additional fees for tournaments depending on the location and venue. tournament fees within Virginia usually range from $10 to $50 depending on the tournament location. National tournaments cost from $75 to $175 for each archer. Travel expenses are not included and are the responsibility of the archers families. Team members are also required to purchase a team shirt if they intend to participate in any tournaments.

Q: What are Achievement awards and what else can my child win?
A: JOAD has 8 Achievement levels that each person has the opportunity to earn. The completed levels are recognized by a pin awards that is attached to a lanyard.
There are also extra awards they can earn for excellence in shooting abilities such as the GOLD Award and the Star Award.
Each level is based solely on each persons shooting ability as set by USA Archery.

Q: Can my child shoot more than one type of bow or what happens if they change divisions?
A: Members can change shooting equipment and classes anytime they want. So, they can shoot a compound and a recurve and change back and fourth if they want. They can also compete in two different divisions as long as there is time during the tournaments.

Q: Are there any limitations to the equipment my child may use?
A: Yes, unfortunately there is some equipment that is not recommended. Any equipment used in JOAD must be approved by our coaches before you join JOAD. If you have questions about your child's equipment you can fill out the contact form at the bottom of this page.
We do allow the Genesis type bows however, please know that these bows are not preferred for competitions, the bow is also limited on how far it can shoot so, no outdoor practices are allowed with the Genesis bow.
We do not under ANY circumstances allow any homemade bows or bows that have been modified from the manufacturers original specifications. The safety of our club members is most important over anything else. Before you join the Club please set up a meeting with one of our coaches to make sure your equipment is satisfactory for this program.
Q: Can HNS Archery advise us on bow options and equipment?
A: Yes, we would love the opportunity to help you choose your archery equipment. Any purchase made from us also includes special perks you won't get anywhere else. You receive professional set-up, lifetime free draw length and poundage changes. (depending on the type of bow). A One on One lesson with one of our coaches. FREE Lifetime bow inspections and lots of other extras that our customers get just because they are our customers. There are special discounts only available to JOAD members, if the product is purchased from us.
​Any equipment that is not pre approved or purchased elsewhere may incur a fee for us to properly set it up for your child and teach them how to use it.

JOAD Team
Once you join our JOAD Program you automatically become a member of the team.
You may attend practices each week and also get a One on One session each month with our coaches. These monthly sessions are designed to give each archer the attention they need to advance their skill levels. Training plans are developed with the coach and archer and parents.
You do not have to attend competitions to be part of the team but we encourage you to at least attend a few of the local shoots offered by our club as well as other local JOAD Clubs.
The weekly club sessions are held year round and focus on team building, practicing skills, pin achievement shoots and preparation for tournaments.
This club is both for recreational archers and archers who would like to compete.
Tryouts are scheduled in advance and scoring is not the most important thing we look for in team members.
We are looking for friendly shooters who are coach-able and have an open mind to new skills and learning opportunities.

Elite Archery Team
Archers who demonstrate superior skill, commitment, and sportsmanship and are dedicated to reaching higher levels of competition may earn a spot on the HNS JOAD Elite Team. While all members of the JOAD Club will have opportunities to compete in local, state, and national archery competitions, members of the Elite Team will train specifically for these competitions and travel tournaments. Elite Team members, furthermore, train with the Coaches One on One and attend additional Archery Team practices and events.

To request an invitation to the next Elite team tryout, an archer will need to:

1. Attend a minimum of 10 Saturday JOAD sessions over a 4 month period or attend tournaments which equal the same time frame. This shows the archers dedication to the team and to the sport. The Elite team takes a high level of commitment.

2. Elite Team members must have completed all 8 JOAD Pin Levels and either earned an Olympian Award or be working towards the Bronze Olympian award.

3. Have attended a State or National tournament in the past year, or have worked out a tournament development schedule with the JOAD director and Team Coaches.

4. Become ingrained in the Elite team community and demonstrate outstanding maturity and responsibility, as judged by the JOAD director and/or head coach. Be able to help with the beginner classes and develop your coaching skills and work towards your Level 1 Instructor certificate.

Archers that have demonstrated the above qualifications and have requested a tryout will be invited to tryout. We reserve the right to only invite those we feel have outstandingly proved the above qualifications.



Team Jerseys Order Here

HNS JOAD Team Shirts
can be ordered here.
Shooters can choose up to 3 additional logos to customize their shirts.
Payment is made directly to Rayjus and custom shirts take approx. 6-7 weeks to process. Click the photo or this link to order. http://www.rayjus.com/hnsjoad/

---

Below are some photos from Outdoor Nationals some of our club recently attended.

MORE HNS Champions

Click Here