Welcome to the Hunt'N'Shak
HNS Archery Center
Central Virginia's only Archery Only Pro Shop
11250 Patterson Avenue, Henrico, VA 23238
Call us at 804-562-1673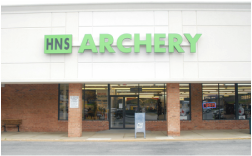 Our 12,600 sf. store offers A Huge Archery Showroom with all the latest archery equipment.
Indoor 40 yard shooting range as well as an Indoor 20 Yard Spot Target Range. Full service bow tuning area and large Retail Space featuring all the Best in Archery.
---
Store Hours

Tuesdays - Saturdays 10am till 7pm
Sundays 11am to 6pm
From August 4th -October 1 we are open 7 days a week.
Call us at 804-562-1673
Email: huntnshak@comcast.net



Directions: From North Richmond, take Route 288 South to the Patterson Avenue EAST exit. Stay east on Patterson avenue to the first shopping center on the left. (approx 2 miles) We are located in the center of that shopping center (Tuckahoe Village Shopping Center) Between Food Lion and Pleasants Hardware.
At the corner of Patterson Avenue and Lauderdale.

From Charlottesville area, take I-64 East to Rt. 288 South. Travel approx 3 miles to the Patterson Avenue EAST exit. Then follow above directions.
From South of Richmond take 288 north to the Patterson Ave. East exit. Travel approx. 2 miles on Patterson Ave. to Tuckahoe Village Shopping center on your left. We are located in the center of that shopping center directly behind Burger King.

Archery Sales & Service

Benefits and Perks you receive when you
buy your new bow from HNS Archery.
1. Your bow is professionally set up, tuned and fit to YOU.
2. You get a lesson or coaching from one of our USA Archery Certified Instructors.
3. We assist you in sighting in your new bow so it's ready to go when you leave.
4. Lifetime bow inspections and we Guarantee all of our work we perform on your bow.
5. You become entered in our Customer Loyalty Program and receive special perks that only our Loyal Customers receive including advance notice of all sales, specials and events.
6. We are always there for you after the sale, we want you to be a customer for a long time, your satisfaction is our number 1 goal.



USA Archery Certified Archery Coaches

All of our coaches are USA Archery certified Level 1, Level 2, and Level 3-NTS advanced coach. We have coached many champions and have National rankings ourselves. To request any one of our coaches just give us a call and we'll schedule a lesson with one of us.

---

Archery for Beginners

Do you have lots of questions? Want to try archery before you make a committment to buy a bow? Sign up today for one of our 4 Week Explore Archery Sessions.
We supply Everything you need. Get answers to your questions and try out lots of different equipment and learn different shooting styles.
Explore Archery is a USA Archery certified program.

---

If you are interested in trying archery without the commitment of first buying you own equipment, one of our Archery Academy Classes may be what you need. We offer classes for kids as well as adults, family groups or office parties.

Our Junior Olympic Archery Development club is made up of High Level competitors. Membership in this club is by Invitation only and for ages 8-20. If your child wants to compete and you think they've got what it takes.. give us a call and make an appointment for a tryout.

Many commonly asked answers can be found here, or fill out our convenient online form and receive an answer from one of our experts.

JOAD Youth Tournament Registration

November 8, 2014

Adult Tournament Nov. 9, 2014

Forms below




Marcy Reese 2014 Womens Master Open National Champion.

Form more on our Teams and Champions see our

Staff

and

JOAD

Pages.

At HNS Archery we care about you and your shooting. If you would like to be trained to shoot better by Marcy or Danielle or any other of our Certified coaches, give us a call and schedule a time.

HNS Archery, We produce Champions.

***************************************************************

---

Learn to Teach Archery
Our Level 2 Instructors & Level 3 Coaches can certify you to teach archery. Reserve your spot today.

Next Class is November 15-16, 2014

______call 804-562-1673______

**************************************


We now Offer Financing!
see store associate for complete information.

---

Thank you to all of our loyal customers for helping us achieve the Mathews and Mission Archery Top 100 Dealer award for the second time.

Mathews & Mission Top 100 Dealer Award.

---

We have a NASP team for Homeschool Children in grades 4-12.

Tryouts will be held from October 14-15-16

We also offer NASP training to give your child the edge they need over the competition. We are NASP Certified Instructors.

For more information on our NASP Homeschool Program, please

click Here.

***********************************************************

---

Our new 12,600 sf. store offers an Indoor 40 yard Target Range As well as an Indoor 20 Yard Spot Target Range. Full service bow tuning area and large Retail Space featuring all the Best in Archery. If you are looking for the most knowledgeable staff in Central Virginia, you've come to the right place. Archery Is All We do, sorry we don't sell fishing or guns.
If you're looking for the best prices and value for your money, you're here!!
Please enjoy all the great info on our website, whether you are a seasoned archer or someone who just wants to find out a little more about archery, we can answer all your questions and recommend the equipment that's best for you.

We are the areas only Pro Shop with actual Pros on staff, people who love archery and love teaching new archers all they need to do to be successful.


**************************************************************************

At HNS Archery we have the areas ONLY Bowtech University trained technicians.

---
| | |
| --- | --- |
| Like us on Facebook and keep up with all the archery activities and receive early notice of sales and specials. | --- |